The sunshine finally makes an appearance, just in time for the May Bank Holiday weekend! Join us this weekend and order a delicious glass of local bubbles in support of our English wine pioneers as we kick-start English Wine Week.
English Wine Week is a national campaign taking place between Sat 27th May – Sun 4th June 2017.  Driven by English wine producers to promote and encourage everyone to get involved, it marks the start of the tourist season.  The vineyards themselves are waking up to the new growing season and sunshine too.
We are proud to have award-winning vineyards on our door step and hope our lovely friends and locals will feel the same. Do you love their wines as much as we do?
Did you know…
Believe it or not, there are over 400 vineyards dotted around this wonderful country and several creators are stealing top awards! Although English wine does not enjoy the same levels of fame as Spanish and French wine, quality levels are increasing alongside its popularity.
English wines on our menu
ALBURY ESTATE
Albury Estate is a privately owned vineyard by Nick Wenman, who had previously worked for 30 years in the IT business, before retiring in 2006.  Nick founded an organic wine-producing vineyard in 2008 and now spends most of his time on the vineyard and managing the business, which has become his passion.  Albury Estate released its first wines in 2015.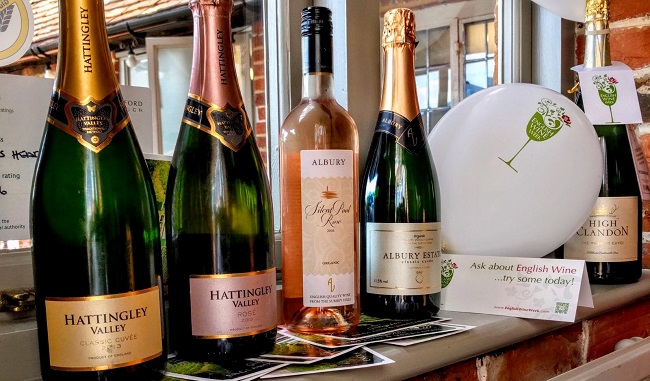 Albury Estate Classic Cuvee is an organic sparkling wine, which has been awarded a Gold in the International Organic Wine Awards, Decanter and the International Wine Competition and UKVA. Make sure to enjoy a glass of this as a refreshing starter to your meal!
Did you know that sparkling wine is produced using the same method as Champagne. Secondary fermentation takes place in the bottle over a minimum of two years to give the wine its fizz and character?!
HIGH CLANDON ESTATE
High Clandon Estate Vineyard was founded in 2004 by Sibylla and Bruce Tindale. Their Quintessence is crafted from the classic trio of champagne grapes…Pinot Noir, Pinot Meunier &  Chardonnay by their very own award-winning wine maker.
In order to produce 'the most perfect embodiment', they have a four year ageing on the lees – in contrast to most champagnes and sparkling wines which have a minimum contact of 18 months. Followed by a further nine months after dégorgement to ensure perfect integration of flavours.
This English Wine Week, HIgh Clandon are holding a special event, Sculptures in the Vineyard, from Sunday 28th May – Monday 5th June, 11am – 4pm. This is a unique exhibition with over 100 works of art by noted artists on show in the vineyard, gardens and the atmospheric Glass Barn at High Clandon – a beautiful setting in the Surrey Hills AONB. Discover more about Scultpures in the Vineyard on our Local Page.
HATTINGLEY VALLEY
Simon Robinson founded Hattingley Valley vineyard in 2008.  Since launching its first release in August 2013, Hattingley Valley has developed into one of the most respected producers and leading contract manufacturers of English sparkling wines in the UK and continues to win a great number of awards.
Come and enjoy the multi-award winning delicate and textural sparkling Hattingley Valley Rosé. Subtle and delicate in colour, this is an elegant Rosé with an abundance of red fruit…it also happens to be a Gold medal winner in the Champagne and Sparkling Wine World Championship 2016.
An interesting fact…
A key element of Hattingley Valley's style is the subtle use of oak barrels to ferment a small proportion of the wines each year, as well as ageing on lees in stainless steel tanks. This softens the wines before they go into bottles for the second fermentation!
Book a table now at the Queen's Head now and try our local award-winning English wines…we will be able to recommend the perfect food pairing for you!