Our Head Chef, Adam, loves nothing more than building delicious, creative menus full of seasonal dishes, using some of the finest ingredients our local area has to offer.
With the daylight hours becoming longer, the flowers starting to bloom and Easter rapidly coming our way, Adam has decided to share one of his favourite Spring puddings for you to try.
"This pud is just perfect for when you're entertaining over the Easter long weekend… or for those days when you just need a little treat!" says Adam.
Apple Panna Cotta with Raspberry Compote & Hazelnut Crumble
Panna Cotta Ingredients:
1 litre apple juice
200g caster sugar
600ml double cream
1 cinnamon stick
1 tsp vanilla extract
7 sheets gelatine
Crumble Ingredients:
150g plain flour
150g dark brown sugar
Pinch of salt
1 tsp cinnamon
150g unsalted butter
150g oats
100g chopped hazelnuts
Raspberry Compote Ingredients:
1 bag frozen raspberries (reserve a few for decoration)
1 tbs caster sugar
½ tsp vanilla
Apple Sauce Ingredients:
2 large baker apples
2 tbs sugar
½ lemon juice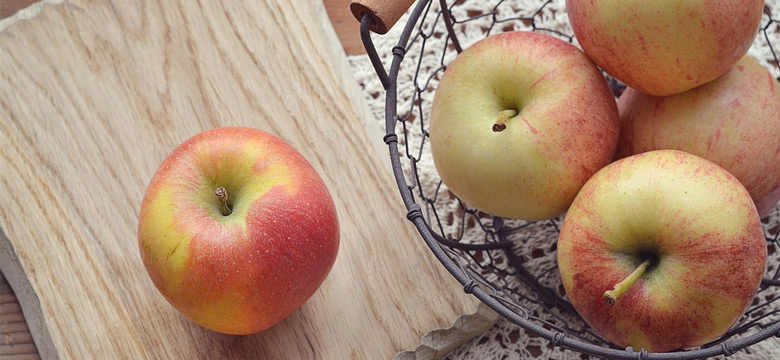 The Method:
Warm 200g of caster sugar, apple juice and the cinnamon stick in a saucepan until lightly simmering.
Place gelatine in cold water until soft and then dissolve in the hot apple juice.
Place the double cream and vanilla extract in a bowl and heat until warm (do not boil), then add to apple juice and mix well over an ice bath.  Chef tip: an ice bath is a shallow bowl of icy water that you can place the bowl of ingredients into to cool down. Just make sure the water is shallow enough not to go over the edges of your bowl. 
Once the mix is cool, place in Dariole moulds or if you would prefer to make one big panna cotta, put in a large dish.
Leave to chill for at least 6-8 hours until set. You want the panna cotta to wobble a little when you touch it.
For the crumble…
Place the butter, flour and brown sugar in a blender and blitz until you have breadcrumbs.
Add oats and chopped hazelnuts to the mix, then place on a baking tray and bake at 180°c for 15 mins until golden. Leave to cool and break up the crumble into bite-size pieces (making sure you don't eat of all it!!).
For the raspberry compote…
Place rasberries in a saucepan, add the caster sugar (you can adjust the amount of sugar to your liking) and bring to a simmer.  Then leave to cool
For the apple sauce…
Peel and chop the apples into a pan and add the sugar and lemon juice.
Slowly cook down, until the apples are soft and mushy.
Place in a blender and blitz until smooth. Leave to cool and pour into a squeezy bottle.
To present this dessert…
To remove the dish, place the panna cotta in some warm water for a few seconds (drain the water in your hands) and place on the plate.
Add a few raspberries with some sauce on top; pipe apple sauce around the dessert (or wherever you would prefer it to sit) and then finish off with scattering some crumble around the plate. Decorate with a sprig of fresh mint.
ENJOY!
---
Join us at The Queen's Head to sample more of Adam's delicious desserts! Book a table online.