Behind every pub, there's a fantastic manager keeping the cogs churning.
From ensuring our staffs happiness and motivation, choosing suppliers who offer fresh, local and seasonal produce for our chefs to work with, and of course the most important, making sure our customers have a pleasant meal and memorial time during their visit.
For those of you who regularly visit us, you'll know that Adriana has been a fantastic manager here at The Queen's Head and we would like to take this opportunity to wish her the best of luck for her little bundle of joy, due very soon!
We're thrilled to have a familiar face return to The Queen's Head as our new(ish) Pub Manager. Danni was previously manager here at The Queen's Head for a few years, before moving to manage our sister pub, The Cock Inn near Epsom, when Red Mist launched the pub in 2015. Whilst Danni was managing The Cock Inn, the pub was a hugely popular destination and won the Surrey Life Food & Drink Awards 'Pub of the Year' in 2017.
Danni is delighted to be back to her original roots with Red Mist and hopes to catch up with all of the regulars, as well as meet all of the new faces at the pub very soon. In the meantime, we thought we would find out a bit more about Danni and share it with you…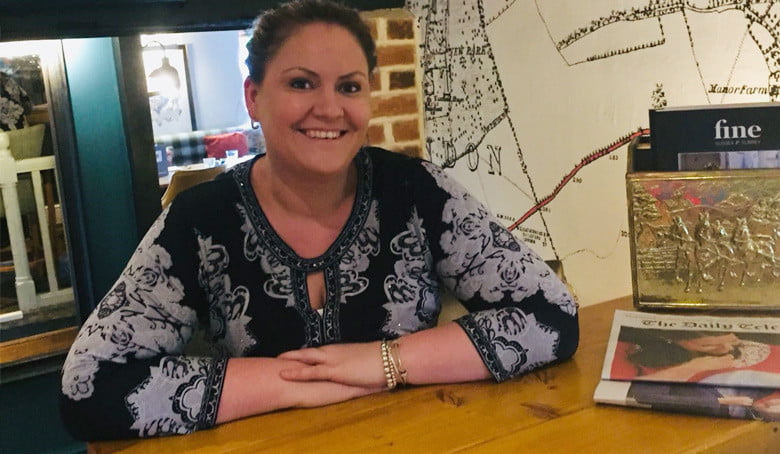 What was your dream job when you were growing up?
I definitely wanted to get into something that involved travelling the world which has always been something I love. We had a family friend back home in Australia, who was a flight attendant and was always off travelling the world and I remember thinking that was what I wanted to do.
Where in Australia are you from and when did you move to the UK?
I'm originally from Sydney and moved to Dunk Island (off the coast of Cairns for 2 ½ years) in 2003 and then to Cairns itself in 2005. In 2008 I came over to the UK with the intention of staying for 2 years to travel and never moved back!
What's your favourite thing about Great British Pubs?
I love the feeling of warmth and the coming together of the community throughout the colder months, where everyone walks to the pub and come together to warm up around the fire.
What is your favourite classic pub dish and why is it your favourite?
My favourite would have to be a traditional Sunday Roast with tender beef… Nothing beats the feeling of being rewarded with a Sunday Roast when I've been working over the weekend!
If you could invite anyone in the world to come and dine at The Queen's Head, who would you invite and why?
I would love to get my family from Australia all together for a good catch up and for them to experience the Great British Pub experience.
What's your signature drink that your nearest and dearest know to order for you?
Always a refreshing Gin and Tonic, with lots of ice and all the extra garnishing.
What is your favourite dish on The Queen's Head Spring Menu?
I really love the Cumberland sausages with mustard and sage mashed potato, it's such a tasty comforting dish, especially topped with the caramelised onion and apple jus.
---
Come and meet Danni for yourself and enjoy a delicious meal at The Queen's Head.