Red Card Rewards
Our unique reward scheme that really gives back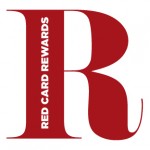 If you have forgotten your password, simply click on the link above and select the forgotten password option
---
CLAIM YOUR £10 VOUCHER
Create a new account today and pick up a card on your next visit to the pub (you'll just need to give staff the email address you registered your account with). Once you have confirmed your account with your card, you can redeem your £10 voucher, even on your first visit!
---
HOW DOES IT WORK?
Collect one point for every £ you spend here with us, or at any of our sister pubs. We'll award you with a £10 voucher on your account every time you collect 500 points; save them up for one big blow-out, or use it for sneaky sandwich and a pint.
Don't worry, you won't have any pesky vouchers filling up your wallet! You will be emailed when a new voucher is awarded to your account and all of your vouchers will be stored on there until they expire 12 months later, so just let staff know when you want to use one (or 5!).
---
OUR WAY OF SAYING HELLO
Receive £10 just for joining the club and fully activating your account online.
Trouble activating your account? Get in touch!
rewards@redmistleisure.co.uk
---
EXTRA PERKS
When you sign up, you're joining our family, and what kind of family would we be if we didn't celebrate your birthday for heaven's sake?
We'll add £10 onto your account to say Happy Birthday 7 days before the date of birth that you gave when registering! Be quick though, your birthday voucher expires 4 weeks after being issued.
---
MANAGING YOUR ACCOUNT
You can login and manage your account online, seeing exactly when you collected points, what your card balance is and what vouchers you have earned and redeemed.
Why not add multiple cards to one account so everyone in the family and office can help you reach those targets!
If you have forgotten your password, simply click on the link above and select the forgotten password option
---
 WANT TO JOIN RED CARD REWARDS?
Next time you pop in, grab a member of staff and simply give them your email address. They will give you a shiny new Red Card and you can start collecting points straight away.
You won't be able to spend your vouchers until you have fully activated your account though, so be sure to follow the instructions in the activation emails that you will be sent.
Didn't receive your activation email? Get in touch!
rewards@redmistleisure.co.uk
You can also register for an account online at rewards.redmistleisure.co.uk and then pick up a card on your next visit; it's up to you!
---
HAVE AN OLD STYLE RED CARD?
You can pick up your shiny new card in any of our pubs, and if you give us your matching email address, all of your points will be transferred!
Once you've created a password for your new account, we'll give you a £10 voucher too (we're not just rewarding our new members!)
Points not transferred? Oops, we must have a different email address on file for you.
Simply email us with your name, old email address, old card number (if you have it) and postal address
rewards@redmistleisure.co.uk
---