For those in the know, who consider The Queen's Head their 'local' they will be incredibly familiar with one of our star local producers, High Clandon Estate Vineyard.
Founded in 2004, by husband and wife team, Bruce and Sibylla Tindale, the hard-working duo have an unfaltering passion in their quest for producing the very best in English sparkling wine in their small, hand-manicured vineyard.  Having won a multitude of gold awards for their wines over the years, plus an active member of the quintet of Vineyards of the Surrey Hills, this dynamic duo do not do things by half… not only do they produce award-winning sparkling wine, but they also produce their very own honey made from the bees thriving on their English wild-flower meadow plus they are hoping shortly to harvest Burgundian Truffles from its own truffle orchard, planted with oaks and hazels in 2004.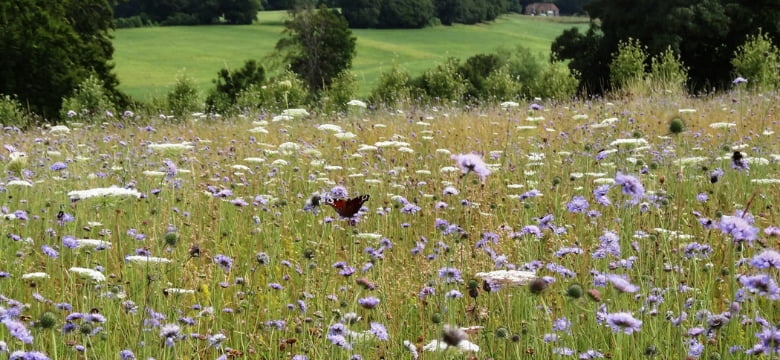 The estate of High Clandon is incredibly fortunate to form the same geological stratum as that of the Champagne region.  The vineyard's hills are south-east facing, which allows the grapes to ripen in the concentrated sunlight, which simultaneously protects the vines from debilitating spring frosts.  The team also employ viticulture interventions such as hand-manicuring of the vines and grapes, which result in the richest, ripe grapes that are bursting with flavour.  The ethos for the vineyard is heavily focused on quality grapes (and not quantity) to produce such acclaimed and long-aged vintage sparkling wines.
We are incredibly proud to stock the delicious High Clandon sparkling wine here at The Queen's Head and, hot off the press, the estate has just announced a major art exhibition 'Art & Sculpture in the Vineyard', which is just a five-minute drive from our pub.  This special event will be taking place between Sunday 26th May – Sunday 9th June 2019 and will be showcasing over 150 works of art, which will be set out across the estate's stunning gardens, wildflower meadows and Glass Barn providing sweeping views of London's dramatic skyline.  This is the fifth such exhibition held by High Clandon and is becoming a key feature of the Arts calendar for Surrey.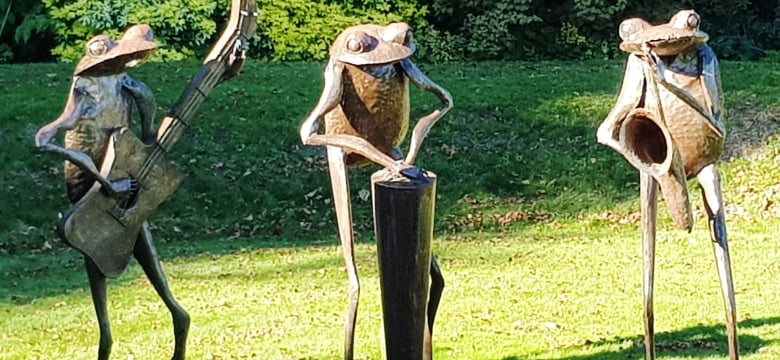 For the second year running, High Clandon has won the coveted IWC Cellar Door of the Year competition for the most successful 'cellar door attractions' throughout the country delivering an 'outstanding service to wine consumers' and is very much promising the warmest of welcomes to visitors coming from near and far. If you are travelling from afar, why not stay overnight at our sister pub The Stag on the River, Eashing (just 20 minutes away) and enjoy luxurious comfort and delicious food from just £135 per room, per night to complement your experience.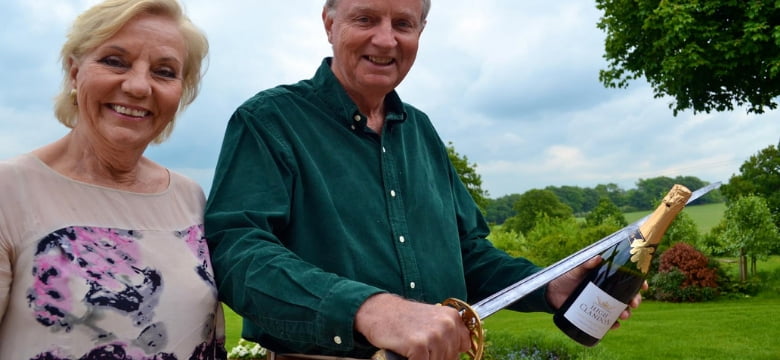 This exciting summer exhibition also marks the release of their new-to-market sparkling English Cuvée, The Halcyon Cuvée 2014, which is a beautifully elegant five-year-aged vintage. With high drama and the tremors of a drumroll, the owner Bruce Tindale will perform a sabreur opening the champagne bottle with a flourish and a sabre!
Always keen to support local charities, High Clandon has chosen to support its long-standing relationship with Cherry Trees and will do so by donating a percentage of all art and sparkling wine sales to this incredible charity, which provides respite care for children with disabilities.
The estate will also be hosting The Battle of Waterloo Tasting on Saturday 8th and Sunday 9th June 2019 to mark the festival-launch weekend of Vineyards of the Surrey Hills.  This offers a unique opportunity to enjoy a tasting battle of the Surrey Hills sparkling wines versus the French champagnes where you will help determine the winner of this much-coveted title!  This special event will be led by the renowned raconteur, polymath and wine aficionado, Joe Wadsack, often known as the 'whirlwind of wine'.  It is set to be a light-hearted and deliciously tasty hour to those who pre-book to be part of this tasting. For more information regarding High Clandon's calendar of events, do take a look here.
If you haven't yet had the delightful opportunity of tasting this acclaimed sparkling wine, now's the perfect time to enjoy a glass of home-grown, award-winning Surrey bubbles against the summer backdrop right here in the gardens of East Clandon.  Make time for the sunshine!