The Christmas TV adverts have arrived, shop windows are filled with festive displays and we have just three weeks left to prepare for the Big Day (where has the time gone!).
Adriana and the team here at The Queen's Head are busy adding the final festive touches, getting tangled up in fairy lights and tinsel and looking forward to seeing your faces this Christmas.  If you're looking for ideas to entertain yourselves (or the kids!), look no further for our quick re-cap on things going on in the lead up to Christmas.
"I love Christmas" exclaimed Pub Manager, Adriana. "My favourite part is seeing the children that come in the pub, how their little faces are lit up with excitement throughout December. As a mum, seeing my daughters face when she opens all her presents is just so magic to me."
Dates for your diary
2nd December
Head over to the beautiful Stoke Park in Guildford and partake in the Santa Jog, a festive family fun run. With a choice of 2.5k or 5k routes, all the family can join in. Adults who register in advance will receive a Santa suit, under 16s a Santa hat and they encourage children to come in festive fancy dress.
16th & 17th December
Meet Mrs Christmas this year  in her cosy sitting room at Hatchlands Park and receive a small present. Hatchlands Park is just 3 minutes drive from The Queen's Head and offers stunning views of the gardens as well as a festive atmosphere inside the stunning country house.
Tuesday 19th December
Join the Oxford Singers for their 32nd year performing in support of Clandon Park, at Holy Trinity Church in Guildford, as they herald the start of the festive season with their Christmas Carol Concert. Featuring readings by actress Dame Penelope Keith, all donations will go to to the Clandon Park appeal, in aid of the fire at the National Trust venue in 2015.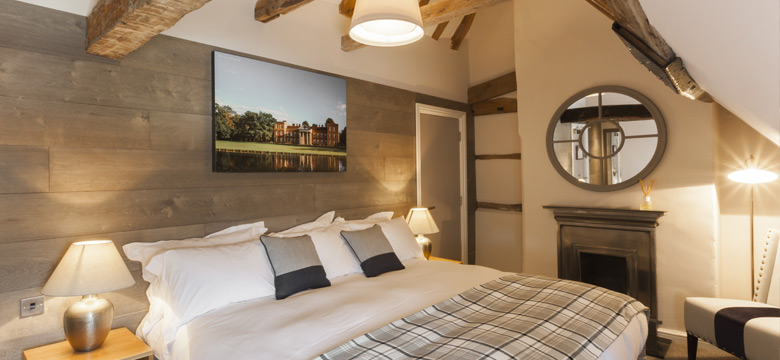 Escape the Hustle and Bustle
Book a night or a weekend away at one of our two sister pubs, which offer beautiful and modern hotel accommodation.  The Stag on the River, Eashing and The Red Lion, Odiham both offer Bed & Breakfast or Dinner, Bed & Breakfast packages, with rates starting from just £80 per room, per night. Make time for each other and book online or buy gift vouchers, which can be used at any of our pubs on food, drink or accommodation… The perfect treat for someone this Christmas.
---
Did you know…
The Queen's Head opening hours will be slightly different over the Christmas period? Don't get caught out, take a quick swizz at our opening times here. We do expect to be busier than usual, so if you do fancy popping in for a wintry G&T and some delicious fresh, local and seasonal grub we do recommend you book a table in advance to avoid disappointment.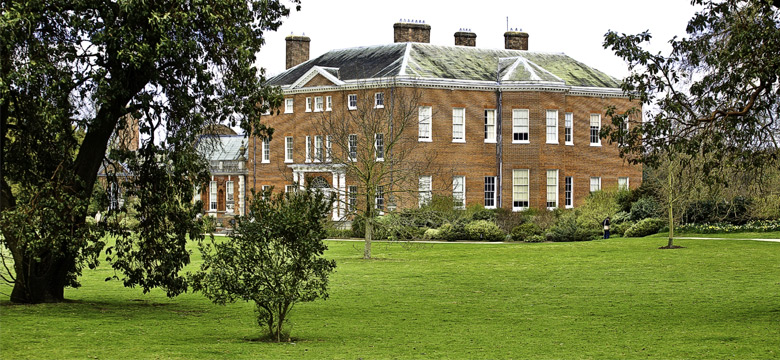 Wintry walks and roaring fires
If you're meeting up with family and friends for a catch up lunch over the festive season, don't forget to put your wellie boots and a warm coat in the car before you leave home and squeeze in a good winter's walk before (or after) you dine with us… you can definitely allow room for pud then!  The Wix Wood walk at Hatchlands Park is just down the road from us and offers fantastic views of the open parkland and country house… a truly great way to banish the cobwebs and increase the blood flow around the body.
Once you've worn yourself out, come and settle down by the fire with a delicious glass of mulled wine or perhaps a frothy hot chocolate followed by a leisurely meal, showcasing fresh, local and seasonal food at its very best.
"Christmas is the time when you can take a step away from work and focus on spending time with your family. I love a good walk with family and friends, followed by great food with a great glass of red." said our Deputy Manager, Milos.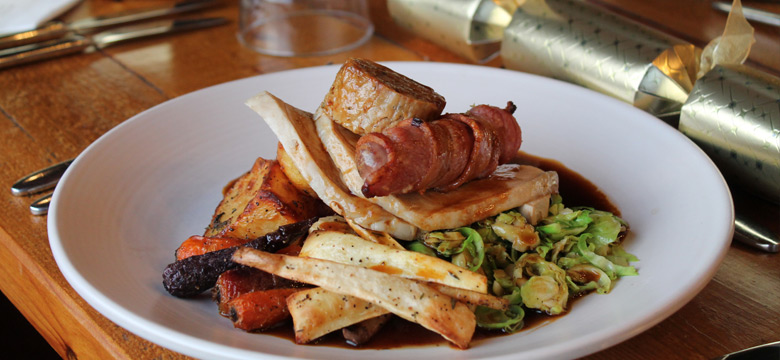 First festive turkey dinner of the year
Not only do we have Daily Specials, which are our chefs' opportunities to showcase their culinary flair with the freshest produce available that day, but our seasonal menus have recently changed as we turn to comforting winter fare.
If you're excited to enjoy your first turkey dinner of the year here with us, you won't be disappointed.  We source all our turkeys from a family-farming business in Essex that has been trading for over 30 years and are all UK Red Tractor and Free Range certified.  The birds are reared in spacious open barns on the family farm, with low stocking densities, plenty of sunlight and are fed on a naturally balanced cereal-based diet, rich in oats, grown on the farms. Enjoy our festive menu (pre-bookings only) from just £23.95 for two courses.
For our Head Chef Adam, it's not a surprise that great food is his favourite thing about Christmas.
"Christmas is all about time with family and lots and lots of great food on the table!"
---
Did you know you can make a reservation up to 45 minutes prior to seating if you're dining from our a la carte menu? What are you waiting for, we've got Christmas and New Year covered!