Despite the random and unexpected days of beautiful warm sunshine we have enjoyed, the turn of season and change in weather and daylight hours has definitely caused a change in our mindset, as our palette starts craving warming, slow-roasted dishes of wintery veg and protein.
The slow-cooker meals and soups crammed full of goodness seem to be prevalent as we try to fend off bugs and viruses around the home. It's time to light the fire, dust off our winter wardrobes and make the most of this beautiful time of year and there's no time like the present to get outside and really enjoy nature at her very best. With an abundance of rich, russet coloured leaves carpeting the grounds and the unusually milder weather, make the most of stepping out to enjoy the bright blue skies, crisp fresh air and work up an appetite with some enjoyable walks and activities in and around the local area.
Walks to whet your appetite
Enjoy an easy, gentle 10k East Clandon and West Hanger walk that takes you into the wooded hills of the North Downs with well-surfaced and easy paths to follow. Enjoying Shere Woods, Clandon Downs and much more, your central stop for refreshment (if you like) brings you to us here at The Queen's Head, before heading off and finishing the walk. If the day is clear, you may be lucky enough to make out views of London with the Shard, the Gherkin and Canary Wharf, and even the Wembley Arch!
We have a great selection of light bites and bar snacks should you not want anything too heavy on your pitstop and a great selection of local drinks to enjoy. Why not try the latest brew from Tilford Brewery, who has collaborated with Hogs Back Brewery with their very own low-alcohol ale; HBTB a delicious tasting 2.8% abv.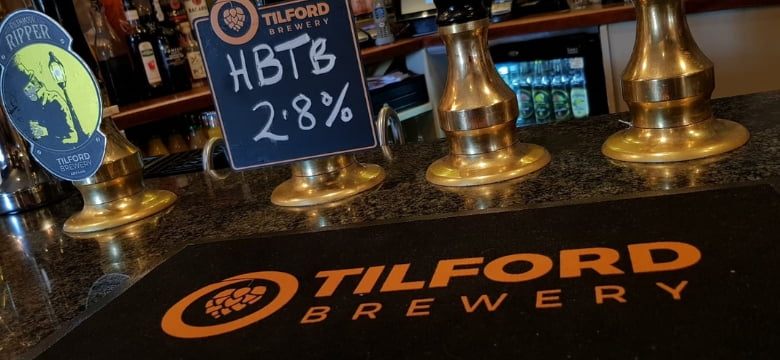 Another lovely walk is that on Hatchlands Park, with over 400 acres of land to enjoy. There are two walks to choose from if you wish to bring your four-legged friends. Did you know we welcome dogs in our pub too? we have selected tables ideal for those dining alongside their dogs… it is always worth booking in advance to ensure you can get one of these tables.
For those who love their wildlife is Newlands Corner and Silent Pool, in the heart of the Surrey Hills Area of Outstanding Natural Beauty and managed by Surrey Wildlife Trust under an access agreement between the Albury Estate and Surrey County Council.  Newlands Corner lies on the chalk ridge of the North Downs, providing glorious views across the Weald to the ridge of the South Downs. Below the slope from Newlands car park lies the village of Albury. It's a popular spot for cyclists, dog walkers, horse riders and families, so you'll rarely be alone. However, the broad expanses of open chalk downland and mixed woodland offer plenty of opportunities to lose yourself in nature. The mighty oaks and ancient yews shelter roe deer and are home to green woodpeckers, nuthatches and tawny owls. About two miles to the east lies the Silent Pool, in a shady hollow surrounded by box trees. It was probably an ancient quarry which was filled by the water from scarp slope springs in the chalk downs.  Legend has it that the daughter of a woodman drowned in the pool whilst escaping the seductive advances of King John. In the 19th century, it was a popular attraction and still retains a certain eerie charm today.
Finish your day, having blown away the cobwebs, warming up with good food and drink here at The Queen's Head; our autumn menu launched earlier in the month to a great response!
Delicious dishes that have made the menu this season include autumn squash and pumpkin falafel and the scrummiest smoked Applewood cheddar, Dorset ham hock and sun-dried tomato croquettes with homemade piccalilli. If you're a pie-lover then you should definitely try the vegetarian's dream pie, which is filled with lentil, chickpea, mushroom and celeriac topped with a deliciously smoked cheddar crust. In addition to the autumn menu, we always have daily specials, which is where Chef and his team really get to experiment with their ingredients.
Sourcing fresh, local and seasonal ingredients from our well-established local relationships are key to our dishes tasting so delicious; the journey from field to plate remains at the heart of what we do. Our drinks list too is bursting with local talent, from award-winning High Clandon sparkling wine to the hugely popular Silent Pool gin and Tilford Brewery ale.  Come on in and let our team show you why our little pub is so special.