Here at The Queen's Head and at all nine of our sister pubs, training, development and offering opportunities are incredibly important to us.
Over the past year, we have been focusing on promoting and supporting a new generation of chefs with our apprenticeship scheme, where we are currently offering two qualifications; level two Commis Chef and level 3 Chef de Partie.
But what exactly is an apprenticeship? An apprenticeship allows individuals to combine work with their learning. It offers people the chance to gain work experience, whilst being paid, to learn a particular skill set and gain vital qualifications needed in their career.
The schemes are open to anyone over the age of 16, who have completed full-time education. No existing qualifications are necessary although GCSE Maths and English are compulsory, so if the applicant hasn't completed these, they will be supported to take these exams alongside the apprenticeship.
The benefits:
Earn whilst you're learning
Receive industry recognised qualifications
Gain hands-on work experience and develop your skills
Benefit from ongoing support and mentoring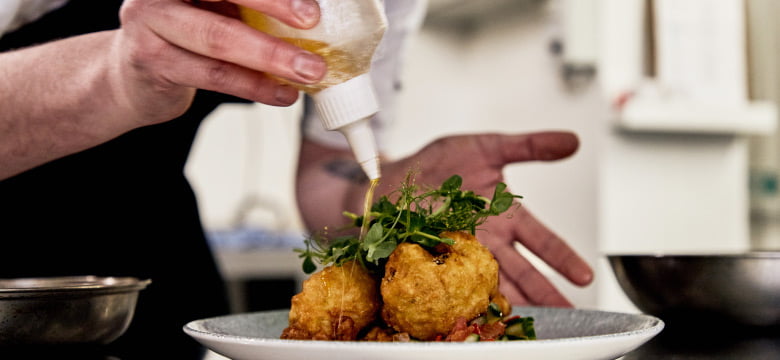 After Red Mist launched the scheme just over a year ago, we were lucky to be the first pub in the group to gain an apprentice through Farnborough College. Our fantastic apprentice, Liam, has been working towards his Level 2 Commis Chef qualification, under close mentoring from our Head Chef, Adam.
Adam, who also started as a chef at a young age himself, knows just how important it is as a junior chef to feel inspired and passionate about cooking. He works closely with Liam to further spark his passion for food, teaching him vital techniques, presentation skills and also educating Liam on combining and experimenting with flavours to create new, inventive dishes.
"When I was the same age as Liam, I had no college training when I came into the industry. I was one of the lucky ones that joined a team where I could grow at my own pace and learn from good, caring chefs that had the patience to teach and see the potential in me. I wish I had had the opportunity back then to have done an apprenticeship; I really feel it's the best way for a young chef, that is passionate about food, to learn hands-on skills but to also have the support at college in learning the theory behind it. 

It's fantastic having Liam as part of our team. He gets the opportunity to work in the kitchen and see how different chefs and personalitites work together. Cooking one dish requires communication and teamwork from all chefs involved and this allows him to see how the process works to get the food out to a high standard in a timely manner.

Liam is able to watch, learn and ask questions and I love being able to teach and give him insider tips on cooking techniques, career advice and valuable skills. He's been able to build strong relationships with his colleagues by being part of a close team who support each other in the kitchen environment. This is the best step in becoming a strong and passionate chef,  by working with other passionate chefs who are willing to teach what there is to know in running a successful kitchen."

Adam Sullens, Head Chef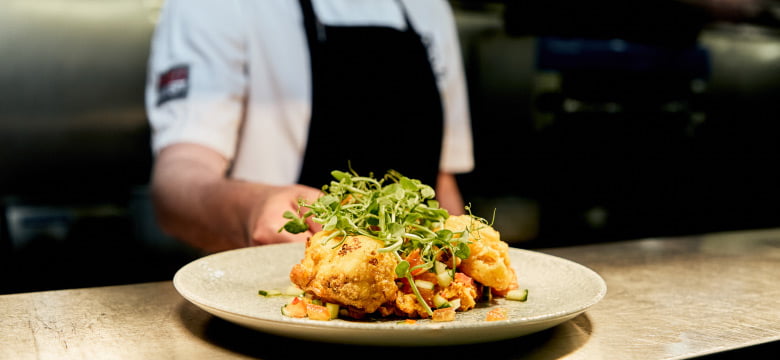 After a busy lunch service here at The Queen's Head, where Liam helped our team of chefs prepare meals for over 90 covers, we managed to catch up with Liam to hear his views on why he opted for an apprenticeship over other training courses.
What made you choose an apprenticeship?
I decided to become an apprentice because other college courses involved so much theory work, which did not suit me. I learn better with a more hands-on approach.
What have you enjoyed most since starting at The Queen's Head?
I've enjoyed working as a team member to get the job done as well as experiences like travelling to Brixham for a tour around the fish market, to see how the fresh fish on our menu is caught and auctioned at the market. Something I would not have done on a normal college course.
For other young people considering starting an apprenticeship what have you found most helpful?
The things I have found most useful would be my one-to-one sessions with Adam, our head chef, which has helped me understand different cooking methods, time management and an overall understanding of the catering industry.
"Apprenticeships are a great way to get into the hospitality industry, especially within kitchen teams. A base knowledge of skills is really important, but so is real world experience in the hustle and bustle of a working kitchen. An apprenticeship provides the combination of both college based learning and hands on whilst learning from experienced chefs. Red Mist Leisure is clearly committed to training and promoting from within and this is the perfect first step onto a career ladder, combined with great mentorship from an experienced Head Chef like Adam, gives our apprentices the best possible start."

Alex Freeman, Pub Manager
What we can offer you…
If you're interested in starting a chef apprenticeship and want to find out more, you can visit our Red Mist Leisure website or alternatively email our recruitment team, who are always more than happy to answer any questions you may have regarding the scheme and what we can offer you across our 10 pubs.