Our Head Chef, Adam, can often be seen in the kitchen, alongside his team, experimenting with new flavours and ingredients to create exciting new dishes on the special's board for The Queen's Head; and he's been especially excited to have brought back Fish Friday, which got us all thinking about the history of this well-loved Friday tradition.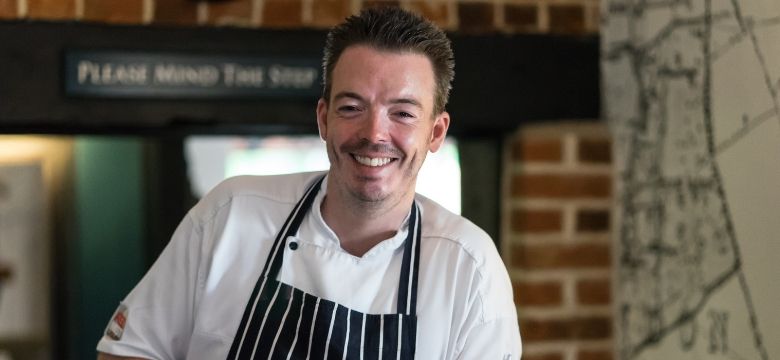 About Fish Friday
Eating fish on a Friday is a tradition upheld by many families, schools and restaurants throughout the UK, with many a menu focusing on fresh produce from our local seas.  So where did this tradition come from? The idea of switching meat for fish on Fridays originated from the Christian faith.  As the Bible suggests, Jesus died on a Friday and so, to honour this ultimate religious sacrifice, Christians fast from meat on Fridays (especially on Good Friday) by instead opting for a delicious fish dinner.
Additional history has also played its part, when in 1522, Henry VIII's divorce from his first wife, Catherine of Aragon, had been refused by the Roman Catholic church; the King broke away from both the religion and its tradition, declared himself the head of the Church of England and divorced Catherine so that he could marry Anne Boleyn.  Suddenly, eating fish became political and lost favour with the rise in Anglicism.  By 1547, when Henry's (very young) son Edward VI took over, the fishing industry was suffering so badly that to encourage people to eat more fish and increase fishing trade, he ordered that Friday fast days once again be reinstated… and the historic tradition continues even today. In fact, eating fish on a Friday is so ingrained, that over a quarter of all fish and chips consumed here in the UK (from chip shops) is sold on a Friday!
Our Daily Specials
For those who already know and love our food, you will know that we have a seasonal a la carte menu, filled with a good mix of favourites and classics, with a twist; plus we also have daily specials, which is where chef really gets to experiment with that day's ingredients, which are bursting with seasonal and local flavour and freshness. So, make plans to join us this Friday (and every Friday) and indulge in the fresh catch of the day, that has been expertly cooked to perfection.
In case you're feeling hungry, or inspired, some of the dishes that Adam has planned, depending on what catch is available, include roast fillet of Cornish cod with a cheddar tomato and herb crust, pan-seared wild sea bass fillets in a creamy white wine sauce, pan-fried red mullet with crab fritter, roasted fillet of salmon en croute and John Ross smoked salmon with spiced, baked beetroot puree – each served with an array of delicious sides…. mmmm…. delicious huh!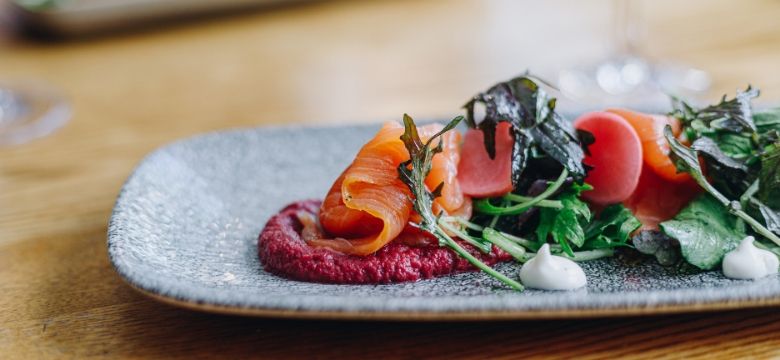 Perfect drinks to serve with your fish
To make your dining experience even more special, pair your delicious fish with the perfect drink accompaniment. Should you not know what to choose, just ask a member of our team and they will be pleased to guide you with suggestions, but in the interim, when cooking at home, here are few recommendations:
Fish and chips go deliciously with sparkling wines (and Surrey is home to some incredible award-winning varieties) to a crisp, cold sauvignon blanc, a pint of IPA and, of course, you just can't beat a big mug of steaming hot English breakfast tea or for summer nights a tall glass of ice cold lemonade.
Smoked salmon works well with so many drinks from chilled Sancerre, Chablis and Champagne to vodka, pale ale and pilsner… perfect all year round!
Fish tacos are delicious and a great option for entertaining, paired with deliciously strong margarita cocktails, a local lager or iced cold sauvignon blanc.
Make the most of the sunshine, lighter evenings and the alfresco dining here in our pub garden, or at home, this summer and enjoy a healthy plate of omega goodness every week to continue the age-old Great British tradition of Fish Friday.
Sources:
https://www.npr.org/sections/thesalt/2012/04/05/150061991/lust-lies-and-empire-the-fishy-tale-behind-eating-fish-on-friday?t=1561552820712